April 26, 2017
David Galbraith: Trio
Trio is a multiscreen installation of abstract digital images, each a visual echo of a distinct three-note chord from a string trio score by first-generation minimalist composer Tom Johnson.
Opening reception: Tuesday, May 16th at 6:30pm
Hours: May 14–19th, 12–6pm
May 20-21 Sat/Sun (by appointment)
Harvestworks
596 Broadway #602
New York NY 10012
Phone: 212-431-1130

Subway: F/M/D/B Broadway/Lafayette, R to Prince, #6 to Bleecker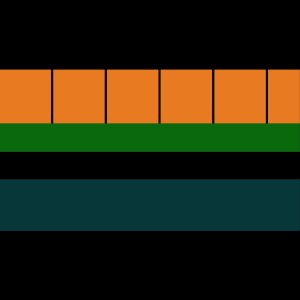 Presented on four large screens, the images were created with custom software based on 288 combinations of violin, viola, and violoncello notes.
Each of the 49 notes used in Trio's musical scale is assigned a color and a simple rectangular shape with dimensions determined by the note number. These shapes — known mathematically as 'straight polyominoes' — were inspired by the combinatorics at the heart of the string trio score. A note, represented by the same shape repeated either vertically or horizontally on the screen, is stacked with the two other visually translated notes to form a composite visual abstraction. Appearing architectonic yet malleable, these emergent visual compositions operate in their own realm as a series of digital paintings, one gently flowing into the next.
Galbraith's installation continues a body of work exploring alternative relationships between sound and image enabled by software designed to cross media boundaries and form a new audiovisual composition environment.
David Galbraith: Trio is a satellite event of Creative Tech Week 2017.