May 22, 2013
Please join me for LUMEN 2013.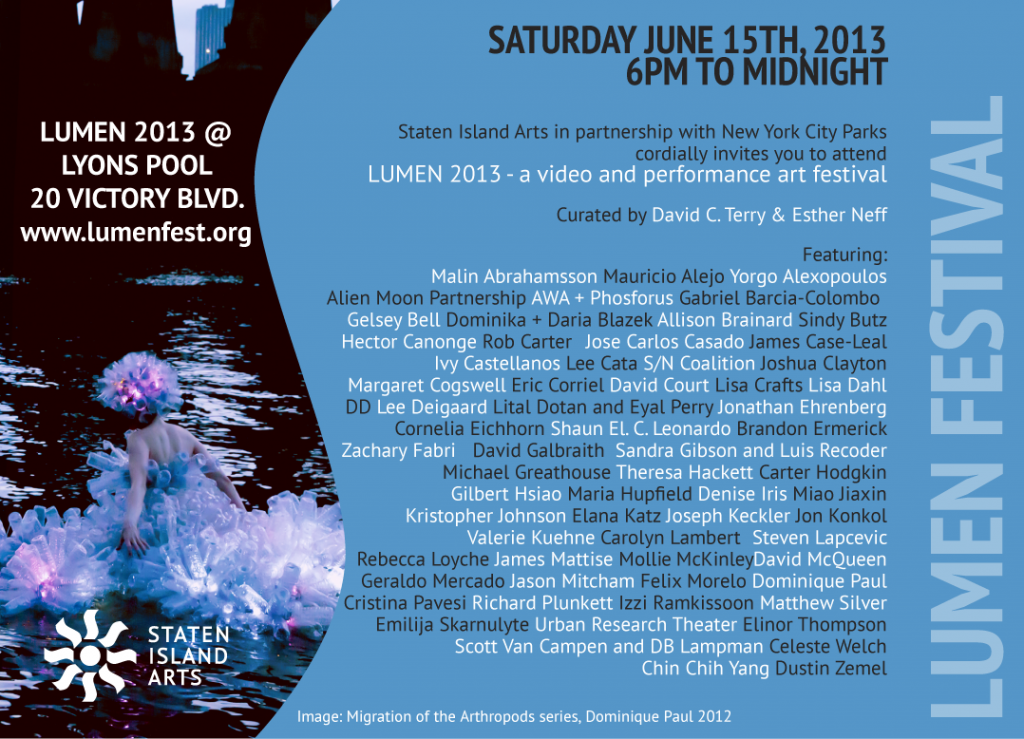 SATURDAY JUNE 15, 6PM – MIDNIGHT (ONE NIGHT ONLY)
LUMEN 2013 will feature video installations, new media projections, animation, light and sound art, curated this year by David C. Terry and Esther Neff.
The fourth annual LUMEN Video and Performance Festival will be taking place at Lyons Pool. The pool, one of a group of eleven immense public swimming pools that opened throughout the city in the summer of 1936, will be transformed by 63 local and international artists who will participate in this year's LUMEN Festival.
Free and open to the public.
Presented by Staten Island Arts in partnership with NYC Parks & Recreation.
TRANSPORTATION
Lyons Pool is located at 6 Victory Blvd (at Murray Hulbert Ave.) Staten Island, NY 10301, about a 5 minute bus or train ride via public transportation from the St. George Ferry Terminal or an 8 minute bike ride or 15 minute walk. Note: There is a pedestrian bridge at the foot of Victory Blvd (at Bay Street), that takes you directly to Lyons Pool. The ferry ride is approximately 30 minutes, and its schedule can be found here. Bike Valet is provided by Bicycle Utopia.
FOOD
Special food trucks will be set up at the event. There will also be beer and sangria available for purchase on-site.
MORE INFORMATION
www.lumenfest.org provides more information about LUMEN and the artists involved, transportation, and view images from previous years' festivals.